Preparing for a strong and passionate marriage is one of the most important things you'll ever do.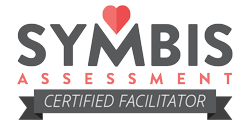 More than a million couples have used the award-winning Saving Your Marriage Before It Starts (SYMBIS for short) book series, and now – through the new SYMBIS Assessment – we can help you prepare for lifelong love like never before.
Used both by pre-marital couples looking to start strong, and for married couples looking for new insights to create a deeper, more meaningful marriage.
Why Should We Invest in SYMBIS Coaching?
The SYMBIS Assessment does two things for couples:
It flags and lowers their risk factors, and
it optimizes their combined strengths as a couple.
This is accomplished by assessing everything from psychological wellbeing to revealing how their combined personalities can be leveraged for optimal success. The SYMBIS Assessment is robust, personalized, and powerful.
The SYMBIS Report is very robust. it takes time to unpack fully and will be the basis for many deep discussions about both your strengths and areas for work as a couple.
What is Involved?
Our SYMBIS coaching package begins with taking the assessment online.
We will then unpack your personalized 15 page report over 5 one-hour sessions giving you deep insights into how you work as a couple.
Sounds Great! How do We get Started?
Click the button below to book your free strategy session where we can discuss your situation and how SYMBIS coaching can serve your marriage.
Book Your Complimentary Strategy Session Now